REVELATION CHURCH APOSTOLIC FAITH,INC.
Contact Us!
8229 S. SAN PEDRO ST.  LOS ANGELES, CA 90003
(Office) 323-759-6146 – (Fax) 323-751-3917
(Church) 323-971-9308
RCAFLA.com
(Email)Revelation@RCAFLA.com 
Welcome to our new homepage!
On behalf of our Pastor, Elder James L. Bryant III, First Lady Tammie Bryant and the entire church family, we welcome you to our revised website. We are so very pleased you decided to stop by and visit with us. We pray that as you explore our sight, you will obtain something from the Lord that will assist you in finding a more fulfilling life through a personal relationship with Jesus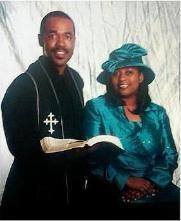 Our Purpose!
Revelation's purpose is to preach the gospel message to bring man back to fellowship and relationship with Jesus Christ through effective evangelism and discipleship; manifesting God's will on earth as it is in heaven.